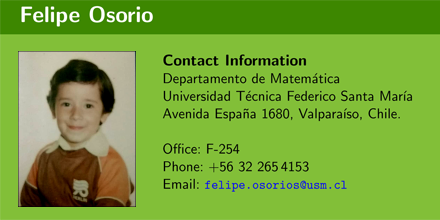 Book in Preparation
Vallejos, R., Osorio, F., Bevilacqua, M. (2018+).
Spatial Relationships Between Two Georeferenced Variables: with Applications in R.
To appear in Springer. Number of pages: ≈ 230.
This book is about how to assess the correlation between two spatial processes. The book describes several different scenarios in which the correlation between two or more sequences is computed. This includes, for instance, useful material for people interested in spatial statistics, time series and image analysis.
Publications
Work in Progress
Leal, C., Galea, M., Osorio, F. (2018). Local influence for the concordance correlation coefficient. Submitted.
Barra, L., Osorio, F. Assessment of movement difficulties in Chilean preschoolers. In preparation.
Vallejos, R., Barraza, W., Osorio, F., Ojeda, S. Statistical estimation of structural similarity coefficients for images. In preparation.
Preprint
Osorio, F., Vallejos, R., Cuevas, F. (2016).
SpatialPack: Computing the association between two spatial processes.
arXiv:1611.05289

| E-print:

Conference Proceedings
Osorio, F. (2011).
Smoothing parameter selection and outliers accommodation for smoothing splines.
In Proceedings of the 58th World Statistics Congress of the International Statistical Institute, Dublin, Ireland. Session CPS008, 6037-6042.
De la Cruz, R., Eyheramendy, S., Meza, C., Osorio, F. (2010).
Exact estimation procedures in a spatial mixed-effects probit model with binary outcomes.
In JSM Proceedings , Statistical Computing Section. Alexandria, VA: American Statistical Association. 3629-3637. E-print: